Rally Codasur: Rally Argentina is a part of WRC calendar from 1980, with exceptions in 1982 due to Falklands war and 1995 & 2010, when it was held, but did not count for WRC ranking. First two editions of the rally were called Rally Codasur.
Altitude and water splashes: the rally stages occur or climb on high altitudes, invariably highest in WRC calendar, which means thinner air affecting engine air intake and consequently its performance. Rally also features the most water splashes as route crosses small rivers and streams, which also can mean trouble for the crews, when water gets into mechanical parts.
Surface: gravel (soft roads on the lower stages vs. narrow rocky tracks in the mountains)
First winner: winner of the first edition in 1980 was Walter Rohrl with Fiat 131 Abarth.
Most wins: Sebastien Loeb – 8 (2005-09, 2011-13), followed by Biason, Sainz and Makinen with 3, respectively.
Most known stage: El Condor-Copina (narrow hairpins with fast and wide bends on gravel).
Most team wins: Citroen – 10, Lancia – 6, Toyota & Mitsubishi -3.
Fastest average speed: Hannu Mikkola – Audi Quattro A2 – 121,60 km/h
Number of different winners: 20 in 33 editions
Longest and shortest total stage distance: 1981 (1332,6km), 2007 (248,2km).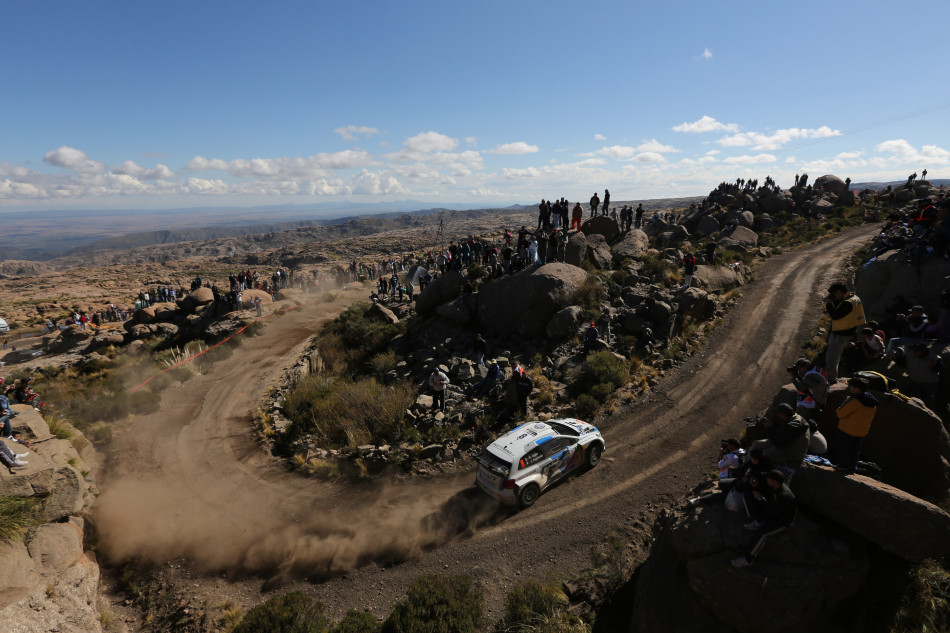 ---
YPF Rally Argentina 2017

Hosted from 27th to 30th of April 2017.
Edition: 37th, 33rd for WRC.
Entry list:
26 crews
13 in WRC: Ogier, Tanak, Evans, Paddon, Sordo, Neuville, Meeke, Breen, Latvala, Hanninen, Ostberg, Bertelli, Gorban.
6 in WRC2: Tidemand, Ptaszek, Saba Rodriguez, Guerra, Heller, Alonso, CamilliItinerary:

(times stated below are CET)
Day 1 Thursday 27-Apr-2017
00:08 (Friday in Europe) SS1 Super Especial Ciudad de Cordoba 1.75 km
Day 1 total: 1.75 km
---
Day 2 Friday 28-Apr-2017
12:00 Service A – Carlos Paz (15 min)
13:38 SS2 San Agustin – Villa General Belgrano 1 19.95 km
14:41 SS3 Amboy – Santa Monica 1 20.44 km
15:24 SS4 Santa Rosa – San Agustin 1 23.85 km
17:29 SS5 Super Especial Fernet Branca 1 6.04 km
18:09 Service B – Carlos Paz (30 min)
20:02 SS6 San Agustin – Villa General Belgrano 2 19.95 km
21:05 SS7 Amboy – Santa Monica 2 20.44 km
21:48 SS8 Santa Rosa – San Agustin 2 23.85 km
00:08 SS9 Super Especial Fernet Branca 2 6.04 km
00:45 Flexi Service C – Carlos Paz (45 min)
Day 2 total: 140.56 km
---

Day 3 Saturday 29-Apr-2017
12:20 Service D – Carlos Paz (15 min)
13:08 SS10 Tanti – Villa Bustos 1 20.80 km
14:21 SS11 Los Gigantes – Cantera el Condor 1 38.68 km
15:14 SS12 Boca del Arroyo – Bajo del Pungo 1 20.52 km
17:05 Service E – Carlos Paz (30 min)
18:08 SS13 Tanti – Villa Bustos 2 20.80 km
19:21 SS14 Los Gigantes – Cantera el Condor 2 38.68 km
20:14 SS15 Boca del Arroyo – Bajo del Pungo 2 20.52 km
22:04 Flexi Service F – Carlos Paz (45 min)
Day 3 total: 160.00 km
---

Day 4 Sunday 30-Apr-2017
12:15 Service G – Carlos Paz (15 min)
14:13 SS16 El Condor – Copina 16.32 km
15:56 SS17 Mina Clavero – Giulio Cesare 22.64 km
17:18 SS18 Power Stage El Condor 16.32 km Same as SS16
18:41 Service H – Carlos Paz (10 min)
Day 4 total: 55.28 km
---
Rally total: 357.59 km